Local Books for Local People
The Sawbridgeworth Local History Society has produced one book, re-republished an important classic and was also involved in the reprint of another important local publication. Find out about these and how to buy them below.

---
The Story of Sawbridgeworth
This book is a combination of three volumes written by Lionel Munby, Mary Wilson and Mary Waterson and issued between 1966 and 1970 by the Workers Education Association Sawbridgeworth Branch. It was re-edited by Wally Wright, now the SLHS president and re-published by the Bishops Stortford Local History Society. In 2018 copyright was acquired by our society. We are proud to have been involved with this book, still the most important source of information for those who want to find out about the history of Sawbridgeworth and its surrounding area.
---
High Wych, Sawbridgeworth and the Great War
Written by Douglas Coe, Theo van de Bilt and Elizabeth Waugh and edited by David Royle. Published to co-incide with the centenary of the end of the Great War this book discusses the ways in which that tragic conflict affected our communities. It includes a spreadsheet listing 128 local soldiers who lost their lives in the defence of their country. Research did however uncover quite a lot more, so we separately published a 75 page article by Douglas Coe listing a lot more soldier stories in more detail. Find out about these by clicking here.
---
Rivers Nursery of Sawbridgeworth – The Art of Practical Pomology
Written by Elizabeth Waugh and published by the Rivers Nursery Site and Orchard Group in 2009 in association with Rockingham Press, this is the story of Thomas Rivers Nursery (1725-1987) its international and local prominence and the loss of traditional rural pursuits its demise represents.
---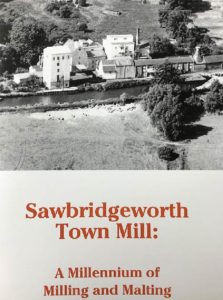 Sawbridgeworth Town Mill: A Millennium of Milling and Malting
Written by Elizabeth Waugh and edited by David Royle this first Sawbridgeworth Local History Group short booklet focuses on a brief but comprehensive history of the Mill area, now known as Burton's Mill after the name of its last owner. An industrial site continuously developed since the earliest period of settlement, its times reflect the fortunes of this agricultural area. Many images illustrate the events and people of this place.
---