Hello,
Once upon a time there was a pub in Sawbridgeworth called the King of Prussia, later on that hostelry changed its name. One of our members, Douglas  Coe, is currently trying to write a story about it.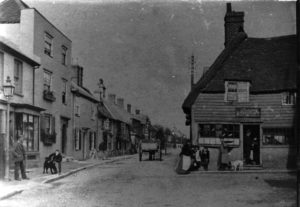 The story goes that the King's Head, as it was then officially called, was closed down in 1958 and was ultimately demolished around 1970. Chances are therefore that it was the favourite hostelry of more than a few locals. If you are one of those or if you know of somebody who used to drink gthere, do tell us. Or perhaps you just have another tale to tell. If you have, please get in touch. Meanwhile here's a picture of the London Road around 1887 with the King of Prussia on the left.
And while we're posting: do come and see us at the Nosdtalgia day on Saturday 11th November at the Sawbridgeworth Memorial Hall.